Looking for recipes that use the zucchini explosion in your garden?
Zucchini Yogurt Muffins, warm from the oven, make a delicious summer breakfast. The delicate, moist interior flecked with green and oozing with slightly melted chocolate will turn anyone into a zucchini lover.
These muffins are also a nutrient dense snack. Fun activities like swimming and hiking require calories to fuel the body, and these tasty treats are a good balance of protein, carbohydrates, and fat. Pack Zucchini Muffins in the lunchbox, wrapped in foil.
Food historians tell us that frugal housewives developed recipes for quick breads made with grated vegetables in the 19th century. The high water content of the vegetable keeps the bread moist, with a relatively stiff, not runny, batter. The water in the vegetables is released gradually as the bread or muffin bakes, creating a tender, delicately risen, cake.
For the non-chocolate eater, or those that prefer a "healthier" treat, I like to prepare these muffins with raisins or nuts. Because the batter is so stiff, it will accommodate a wide variety of fillings, including dried cranberries or cherries and coconut flakes,
One medium zucchini grated yields about one cup. There is not need to peel the fruit, and other summer squashes will work too. My friend Barrett freezes grated zucchini to bake with all winter.
The curcubit explosion at my house will probably last for a few more weeks.  What's your favorite zucchini recipe?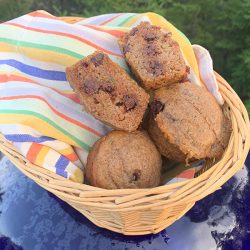 ZUCCHINI YOGURT MUFFINS
Ingredients
1/3

cup

melted butter or vegetable oil

½

cup

Maine maple syrup

1

egg

½

cup

plain yogurt

1-

teaspoon

vanilla extract

1½

cups

whole-wheat pastry flour

1

teaspoon

baking powder

½

teaspoon

baking soda

1

teaspoon

ground cinnamon

1

cup

grated zucchini

¾

cups

chocolate chips

(optional, also try chopped nuts, raisins or shredded coconut)
Instructions
Assemble ingredients and tools.

Preheat oven to 425 degrees. Grease a 12-cup muffin tin.

In a medium bowl or two cup measure, whisk together the melted butter or oil, Maine maple syrup, egg and plain yogurt.

In a large bowl, combine the whole-wheat pastry flour, baking powder, baking soda, and cinnamon.

Grate the zucchini.

Pour the wet ingredients into the bowl with the flour. Add the grated zucchini and chocolate chips. Using a spatula or large spoon, fold the ingredients gently to mix, being careful not to work the batter too much.

Portion the batter into the greased muffin tin.

Bake at 425 degrees for 5 minutes, then reduce the oven heat to 350 degrees and bake until a toothpick comes out clean, about 12 – 15 minutes. Remove the pan from the oven and let rest for 5 minutes.

Turn muffins out onto a rack and cool completely. Store tightly wrapped or in a tin.

These muffins also freeze well. Makes 12 muffins.
Cheryl's Notes
Nutritional analysis per muffin: 206 calories, 3 grams protein, 28 grams carbohydrates, 10 grams fat, 120 mg. sodium, 3 grams fiber
Nutritional analysis with raisins: 183 calories, 3 grams protein, 28 grams carbohydrates, 7 grams fat, 119 mg. sodium, 3 grams fiber