"Don't leave your car window open while you're gone, or you might return to a seat full of zucchini."  Kyra Alex, Lily's Café
As a consequence of the abundance of rain, our garden is now blessed with a cucurbita pepo or zucchini explosion. To keep up with this profusion of summer vegetables, I harvest daily: straight, dark green squashes, distinctive slender, yellow fruits with faint white stripes, and yellow crooknecks with vibrant color.
Although zucchini is often considered a vegetable, it is botanically classified as a fruit. For those that don't pick often, we know that the fruit can grow to more that 3 feet, weighing several pounds. The smaller size that many prefer, usually measuring less than eight inches, are considered still immature.
Nutritionally speaking, zucchini is rich in several vitamins, minerals, and other beneficial compounds. One cup of cooked zucchini provides a mere 17 calories, but packs a wallop: 40% RDI of Vitamin A, 16% RDI of Manganese, 14% RDI of Vitamin C, 13% RDI of Potassium, and 10% RDI of Magnesium.
Plus zucchini and summer squashes are rich in antioxidants, the beneficial plant compounds that help protect your body from free radicals. Lutein, zeaxanthin and beta-carotene are abundant, benefiting your eyes, skin and heart, and providing some protection against cancers.
The recipe for Zucchini Yogurt Muffins is from my archives, and makes a nutrient dense snack. The muffin batter is relatively stiff, so it accommodates a wide variety of treats. What's not to love about a delicate moist interior flecked with green and oozing with slightly melted chocolate? Or packed with raisins and walnuts?
Delicious and nutritious, zucchini yogurt muffins will make anyone a zucchini lover.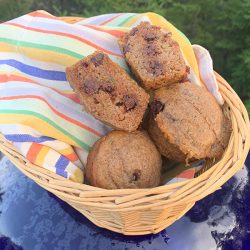 ZUCCHINI YOGURT MUFFINS
Ingredients
1/3

cup

melted butter or vegetable oil

½

cup

Maine maple syrup

1

egg

½

cup

plain yogurt

1-

teaspoon

vanilla extract

1½

cups

whole-wheat pastry flour

1

teaspoon

baking powder

½

teaspoon

baking soda

1

teaspoon

ground cinnamon

1

cup

grated zucchini

¾

cups

chocolate chips

(optional, also try chopped nuts, raisins or shredded coconut)
Instructions
Assemble ingredients and tools.

Preheat oven to 425 degrees. Grease a 12-cup muffin tin.

In a medium bowl or two cup measure, whisk together the melted butter or oil, Maine maple syrup, egg and plain yogurt.

In a large bowl, combine the whole-wheat pastry flour, baking powder, baking soda, and cinnamon.

Grate the zucchini.

Pour the wet ingredients into the bowl with the flour. Add the grated zucchini and chocolate chips. Using a spatula or large spoon, fold the ingredients gently to mix, being careful not to work the batter too much.

Portion the batter into the greased muffin tin.

Bake at 425 degrees for 5 minutes, then reduce the oven heat to 350 degrees and bake until a toothpick comes out clean, about 12 – 15 minutes. Remove the pan from the oven and let rest for 5 minutes.

Turn muffins out onto a rack and cool completely. Store tightly wrapped or in a tin.

These muffins also freeze well. Makes 12 muffins.
Cheryl's Notes
Nutritional analysis per muffin: 206 calories, 3 grams protein, 28 grams carbohydrates, 10 grams fat, 120 mg. sodium, 3 grams fiber
Nutritional analysis with raisins: 183 calories, 3 grams protein, 28 grams carbohydrates, 7 grams fat, 119 mg. sodium, 3 grams fiber