Saturday night supper and a staple at grange hall meals, baked beans have been enjoyed by generations of Mainers. The mighty bean, indigenous to the Western Hemisphere, actually migrated to Europe before returning in intoxicating dishes like the cassoulet of France, dal of India, hummus from the Middle East, and pasta e fagioli of Italy.
After grains, beans are the second most important food in fueling the human body. They are extremely useful and versatile in the kitchen, store well in the pantry, and come in many shapes and sizes. Nutritious and delicious!
Haricot beans, a.k.a. Great Northern Beans, Small Whites and Navy Beans, are the most common for baking. Ivory-white and small, 3/8 ovals, they are widely used, and the bean of choice for Boston Baked Beans. Other varieties favored by Mainer's include Yellow Eye and Jacob's Cattle.
The most important ingredient is preparing any dried bean is time. Baking beans in a slow oven is the perfect project for a rainy day; beans don't need constant attention, just checking in now and again. Some folks have great luck cooking beans in their crockpot, while others use a pressure cooker. Everyone agrees on one thing: Don't rush the bean.
Before cooking, dried beans are soaked to return moisture and reduce the cooking time. Recipes often call to soak beans overnight, but this is strictly for convenience. Tests have shown that beans absorb all the water they can hold in four hours.
Indigenous people taught early settlers how to cook beans with maple syrup and bear or venison fat. The settlers adapted the technique to use molasses and pork fat. Traditional baked bean recipes include mustard, onion, a sweetener, herbs and spices, and salt, which should only be added when the bean is tender. Sodium toughens the seed coat of the bean, and prevents water absorption.
We Americans love the taste of sugar in our beans. A combination of molasses and brown sugar yields a golden brown, sweet bean. I enjoy the taste of maple syrup instead, and often use some form of apple: apple syrup, apple juice, apple butter, or applesauce to sweeten the beans.
Adding a ham bone to a pot of baked beans elevates it to a hearty meal. I love cold beans and ham for lunch or on a sandwich, slathered with homemade ketchup. For a quick and easy meal, freeze Baked Beans in serving size containers. Serve Baked Beans with coleslaw or fresh greens, and hot biscuits or cornbread.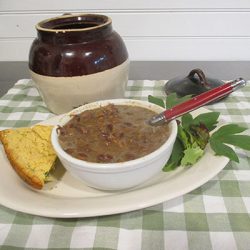 APPLE MAPLE BAKED BEANS
This recipe is only a guide. Be creative! Add chopped apples, brown sugar or garlic.
Ingredients
INGREDIENTS:
2

cups

dried beans

(Yellow Eye, Great Northern, Navy)

1

bay leaf

1

teaspoon

dried thyme

1

teaspoon

dried mustard

8

cups

water

½

cup

maple syrup or molasses

1

cup

applesauce

1

small onion

(chopped or sliced)

4

tablespoons

fat of your choice

(vegetable oil, bacon fat, salt pork, coconut oil, butter.)

1

ham bone

optional

Hot water to cover beans

Sea salt, to taste
TOOLS:
1

large mixing bowl

(12 cup capacity or larger)

1

strainer or colander

1

ovenproof covered casserole or bean pot

(8 cup capacity or larger)
Instructions
Select an ovenproof covered casserole or bean pot. (8 cup capacity or larger)

Pour 8 cups of water into a large mixing bowl. Add the 2 cups dried beans. Allow beans to soak at room temperature for at least 4 hours or overnight.

Drain the beans and return to the bowl. The beans will look wrinkly. Stir in the herbs & spices, chopped onion, applesauce, maple syrup and four tablespoons fat. Spoon the mixture into the covered casserole or bean pot.

Cover the bean mixture with hot water. Bake in a 300-degree oven, checking the beans and covering with more water as necessary. Bake until beans are tender and the skins start to split, about 6 hours.

Remove from oven and let stand for 5 minutes. Season to taste with sea salt if needed.

Serve, or spoon into containers and refrigerate or freeze. Makes about 5 ½ cups beans.
Cheryl's Notes
Nutritional analysis per ½ - cup beans: 202 calories, 7.5 grams protein, 34 grams carbohydrates, 4.6 grams fat, 75 mg. sodium, 7.2 grams fiber.