Muffins, a type of individual quick bread that can be either savory or sweet, are my weakness. Not to be confused with the "common muffin" sold by Victorian English street vendors or "muffin men", the American varieties are leavened by baking powder or baking soda instead of yeast. Recipes found in early New England cookbooks for these quick and easy bites are a fascinating culinary history of our times.
Similar to a cake, muffins can be flavored and filled with all sorts of fruits and vegetables; squash, pumpkin, carrots, banana, dates, almonds, poppy seeds, blueberries, peaches and apples. The basic proportions are usually 2 parts flour, 1 part liquid, and 1 part filling. The trick to making a tender and light muffin is to just barely mix the wet and dry ingredients.
The recipe for Maple Rhubarb Muffins comes to me from my mother, who enjoys a muffin daily with her morning tea break. I tinkered with the original recipe, replacing one half of the white flour with fiber-rich whole-wheat flour, and replacing the cane sugar sweetener with maple syrup and reducing the amount.
With all the spring rain, we have a bonus crop of rhubarb coming on. Although often eaten as a fruit, botanically rhubarb is a vegetable. Fruit or vegetable, this muffin recipe is an excellent way to incorporate the health benefits of rhubarb; Vitamins K and B-6, folate, riboflavin, niacin, thiamin and pantothenic acid, into your diet.
Some folks, like my mother can be quite passionate about their muffins. The official state muffin of Massachusetts is corn, New York officially endorses apple, and Minnesota claims the blueberry. Is the Maple Rhubarb Muffin tasty and worthy enough for Maine? Let me know your vote!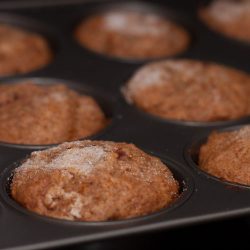 Maple Rhubarb Muffins
Ingredients
3/4

cup

all purpose flour

3/4

cup

whole-wheat flour

1/2

teaspoon

baking soda

1

cup

finely chopped rhubarb

1/2

cup

maple syrup

1/2

cup

yogurt

1

egg

3

tablespoon

Melted butter

1

teaspoon

vanilla
Instructions
Preheat the oven to 400 degrees. Grease an 8-cup muffin tin.

In a large bowl, whisk together the flour and baking soda. Stir in the finely chopped rhubarb. In a medium bowl, mix together the maple syrup, yogurt, egg, melted butter and vanilla. Stir into the flour mixture, just to combine. Do not over mix. Spoon into prepared muffin tin and bake until a toothpick comes out clean, about 12 – 15 minutes. Let cool in pan for 3 minutes before removing.

Makes 8 muffins.
Cheryl's Notes
Nutritional analysis per muffin: 196 calories, 5 grams protein, 33 grams carbohydrates, 6 grams fat, (0 grams trans fat), 135 mg. sodium, 2 grams fiber