The Belgian endive nestled in a Four Season Farm basket at the Blue Hill farmer's market was too tempting to pass up.  The young, chicory plant that has been deprived of light to form a head of whitish leaves is often considered a luxury vegetable here in the states. Although I have not yet cultivated endive myself, Barbara Damrosch's column Spring Flowers in a Dark Season is an excellent resource for the adventurous gardener.
In France and the Netherlands, Belgian endive is a commonly consumed vegetable.  The leaves make for perfect dipping, and for parties, I have filled endive with Maine crab or lobster salad.  Chopped roughly or whole, the pale green leaves are a crunchy addition to a traditional garden salad.
Nutritionally speaking, I was delighted to learn that Belgian endive is a source of thiamin, potassium, calcium, magnesium, Vitamins B6 and C, folate and copper.  Now that is a healthy mouthful!  The bitter taste in the leaves is from intybin, an appetite stimulant and digestive aid.  Large amounts of endive work in the body as a diuretic and laxative.
Endive can also be sautéed, grilled and broiled.  Barbara suggests braising the leaves with meat stock, caramelizing and butter and topping with a cheese sauce.
The recipe for Grilled Endive with Balsamic Butter is simple and easy to prepare.  Wash the heads, split in half vertically, steam or microwave lightly, coat with oil and season.  Ready for when you fire up the grill.
Balsamic Butter Sauce is a winner.   The rich buttery taste highlighted by the tart, mellow vinegar makes everything taste divine.  We enjoyed this savory sauce over grilled duck breast and Belgian endive and the remainder was perfect on sandwiches the next day.
The bitter taste of Belgian endive pairs well with pears, apples, cranberries, herbs, strong cheeses, bacon and other smoked meats.  Try the grilled leaves on a pizza, in a quiche or as part of a stir-fry.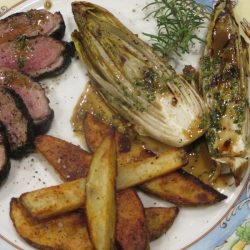 Grilled Belgian Endive with Balsamic Butter
Balsamic Butter is divine on veggies and grilled meat!
Ingredients
1

tablespoon

olive oil

3

medium-small heads

Belgian endive

trimmed and halved vertically

Sea salt and fresh pepper

2

tablespoons

balsamic vinegar

3

tablespoons

unsalted butter

1

tablespoon

finely chopped fresh rosemary
Instructions
Preheat the grill. Lightly steam the endive, then coat with olive oil and sprinkle with sea salt and fresh pepper. Grill; cut side down, and sear, turning once, until golden brown but still firm in the middle. Transfer to heated serving platter.

To prepare the sauce, simmer the vinegar in a small saucepan for about one minute. Remove from heat and whisk in the butter, a small amount at a time, until smooth. Whisk in the chopped fresh rosemary. Season with sea salt and fresh pepper.

Drizzle the Balsamic butter over the endive and serve. Makes six servings.
Cheryl's Notes
Nutritional analysis per serving: 85 calories, less than 1 grams protein, 2.5 grams carbohydrates, 8 grams fat, 45 mgs. sodium, 1.5 grams fiber.