Rice is the basic foodstuff of Asian cuisines; it is the fundamental grain that feeds half the world's population. In Asian cultures, rice symbolically represents fertility and life. An essential food, rice has almost magical properties, and is an integral part of life, art, and politics.
My husband grew up in Veazie, a suburb of Bangor, and one of childhood friend's family owned a Chinese restaurant. He spent many hours helping with chores in the kitchen, and consumed rice dishes in many forms. When we married, he really expected rice to be on the menu.
A true Aroostook County girl, my early experiences with cooking rice (instead of potatoes), failed miserably, and my family never enjoyed the glorious taste of fluffy, delicate rice. When our youngest daughter married an Asian man, I finally learned to cook this ancient grain properly.   They gifted me a rice cooker.
Since then, rice has become an essential part of our meal plans; seared scallops on a bed of parsley rice, grilled halibut with fresh salsa and rice, green curry over rice, chicken and rice soup, and fried rice. A pot of rice cooking on the counter is the promise of two delicious meals, because a jar of rice in the refrigerator is the beginning to a batch of fried rice.
Fried rice is a meal-in-a-bowl; typically a dish of cold cooked rice that is stir-fried with a mélange of colorful diced vegetables and often meat. A deeply satisfying bowlful, fried rice can be eaten as a snack, as street food, or as a glamorous addition to a banquet-style meal. The perfect foil for leftovers, fried rice adapts to a wide variety of tastes and textures.
The key to this recipe is to start with cold, cooked rice and to chop and prepare all the vegetable and protein additions in advance. Fried rice is almost a fast food meal, table ready in 15 minutes.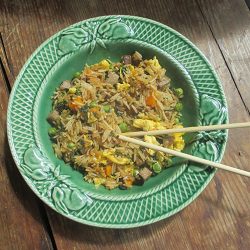 FRIED RICE
Ingredients
4

cups

cooked and chilled rice

3

tablespoons

butter

divided (or fat of your choice)

2

eggs

2

carrots

peeled & cubed (about 2 cups)

½

cup

diced white onion

1–3

garlic cloves

finely minced

½

cup

frozen peas

½

cup

chopped green onions or chopped greens

1

cup

minced chicken

duck, or other cooked protein (optional)

3

– 4 tablespoons soy sauce

1

tablespoon

fish or oyster sauce

optional

1

tablespoon

toasted sesame oil
Instructions
Assemble ingredients and tools.

Chop and mince all vegetables and add-ins, reserving in small bowls.

Whisk the eggs in a small bowl.

In a large sauté pan, melt about ½ tablespoon of butter over medium-high heat. Add the egg and cook until scrambled, stirring occasionally. Remove the egg from the pan and set aside. Wipe out the pan.

Add another tablespoon of butter to the pan and heat until melted. Add the chopped onion, garlic, chopped carrots and frozen peas. Season with a generous pinch of sea salt and fresh pepper. Sauté for about 5 minutes, stirring, until the veggies start to soften.

Increase the heat to high, add some more butter, and stir until melted. Add the cooked rice, cooked protein, green onions, soy sauce and fish sauce. Stir until well combined. Continue to fry the rice for about 5 minutes, stirring occasionally. If the rice rests of the bottom of the pan a bit, it will become crispy.

Remove the pan from heat, stir in the scrambled eggs and sesame oil. Taste and season if needed.
Nutrition
Calories:
490
kcal
Carbohydrates:
56
g
Protein:
22
g
Fat:
20
g
Sodium:
1450
mg
Fiber:
4
g