One of the best days of my cooking and eating life just happened around the spring full moon. Full and new moons bring astronomical tides; tides that are both higher and lower than usual. This March, the moon was the closest to the Earth that it has been in 20 years, and as a result,  the tides were even more pronounced. In our cove on Deer Isle, low tide one morning was a negative 1.9 feet, almost 2 feet lower than the average low tide.
I carefully monitor the tide tables, and days like this are marked in ink on my calender. With the full moon setting in the west and the first glow of orange sun on the horizon, we were down at shore, complete with rubber boots, blue gloves and wooden hods. The beauty of a astronomical low tide is that you can clearly see the clam holes in the mud and sand. I had never seen the tide so low…and so many clams! In a little over an hour of digging, our hods were full of 3 different varieties: soft-shelled clams, hen clams, and razor clams.
Hen clams, or the Atlantic surf clams, are very large, measuring 8 inches or more, and weighing in at often over a pound. Also referred to a chowder clams, they are best used in a chopped form. We pop the shell open and scrape out the raw clam, using them to make chowders, clam cakes and fritters.
Every down east family has its favorite recipe for Clam Fritters. This rendition  is  courtesy of our friend Tricia, an excellent Deer Isle cook and caterer.  The key to a perfect clam fritter is the temperature of the fat. Fat that is too hot will burn the outside and not completely cook the middle of the fritter.  If the fat  is too cool, the fritter will absorb too much grease.  Although we enjoy our fritters made with hen clams, any shucked, chopped raw clam will work. Be sure to save the juice.
For several days my life was packed with clams, clam chowder, clam fritters, razors on the half-shell, clams in garlic sauce, clams casino, baked stuffed clams. We have clams in the freezer to last the season. Such a luxury, right outside my door!
CLAM FRITTERS
An electric skillet provides constant, even heat for the fry oil.Canned, chopped clams are available in the supermarket
Ingredients
1

egg

3

tablespoons

melted butter or oil

1

cup

liquids

for clam fritters, usually ¾ cup clam juice and ¼ cup milk or cream

1½

cups

flour

2

teaspoons

baking powder

Salt to taste

start with ½ teaspoon

½

teaspoon

Old Bay seasoning

more or less to taste

1

cup

chopped or ground clams
Instructions
Gather your ingredients and tools.

In your measuring cup, whisk together the egg, oil or butter and liquids.

In a mixing bowl, whisk together the flour, baking powder, and salt.

Whisk in the liquids and fold in the clams. The batter should be thick…like a thick muffin or cake batter.

Preheat at least 2 inches of oil to 370 degrees. Drop tablespoons of the batter in the oil and cook for 2 to 3 minutes, turning with tongs.

Drain on paper towels and taste the first fritter for seasoning. Add more salt and pepper to the batter if necessary.

Continue to fry a few fritters at a time until done.
Cheryl's Notes
These easy to make treats are great garnished with Apple Ketchup, Cranberry Ketchup or my Rabbit Hill Tartar Sauce!
Nutritional analysis per fritter (estimate, varies): 49 calories, 2 grams protein, 5 grams carbohydrates, 3 grams fat, 43 mg. sodium, 1 gram fiber.
Nutrition
Calories:
49
kcal
Carbohydrates:
5
g
Protein:
2
g
Fat:
3
g
Sodium:
43
mg
Fiber:
1
g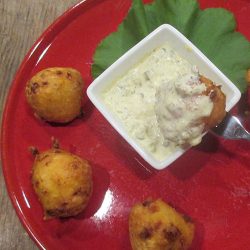 RABBIT HILL TARTAR SAUCE
Ingredients
½

cup

chopped capers

½

cup

Zucchini Relish

½

cup

mayonnaise

sea salt and fresh pepper to taste
Instructions
In the bowl of your food processor, pulse and chop the capers. Add the sweet relish and mayonnaise and pulse to combine. Season to taste with sea salt and fresh pepper. Makes 1 ½ cups. Store in a jar in the refrigerator for up to 2 weeks. Serving size is 1 tablespoon.
Cheryl's Notes
Nutritional analysis per tablespoon: 40 calories, less than 1 gram protein, 2 grams carbohydrates, 3.7 grams fat (0 grams trans fat), 159 mg. Sodium, less than 1 gram fiber.